Planning Commission: East Charlotte Village proposal, Act 143, and roads and driveways standards discussed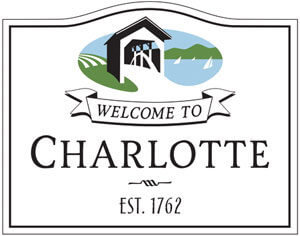 The Thursday, October 17, Planning Commission featured the same agenda items as the previous meeting: next steps for the East Charlotte Village (ECV), Act 143 applied to the land use regulations, and an update to the roads and driveways construction standards.
Vice Chair Charlie Pughe answered questions from the public on the proposed ECV boundary map and further explained the proposed buildouts (houses) analysis presented at the October 3 commission meeting; according to Pughe, 16 more lots could be created in the Village District based on current land use regulations. Septic and water were discussed again, with Hinsdale proposing the idea of locating the needed infrastructure outside the village district. He mentioned state incentives for community systems as well. "Communal septic and water would need to be considered for any development in the village areas," said Chair Peter Joslin. "There needs to be a way to address this in a financially savvy way for everyone involved."
Planning Commission member James Faulker provided an update on the farms inventory he and Zoning Administrator Daniel Morgan are assembling. The inventory is an action Faulkner proposed in previous meetings as a way to assess the number of farms and potential impact of land use regulations on the accessory agricultural businesses provision of Act 143. Town Planner Daryl Arminus offered to do additional research on what the state qualifies as a farm and whether the information can be obtained from a state database. This topic will continue to be discussed at the commission's next meeting on Nov. 7.

Arminus circulated an update to the 1997 "Recommended Standards for Developments and Homes" document which outlines the roads and driveway standards for the town. The update included comments from the CVFRS fire chief. No actions were taken, but Joslin asked Arminius to look into driveway standards for the neighboring towns of Ferrisburgh and Hinesburg.
In other business the commission voted to continue sketch plan for PC-19-179-SK Hutchins. The sketch plan review was "designed to be a brainstorming session" according to the draft meeting minutes. Landowner Jason Hutchins application is for a two-lot subdivision and boundary adjustment.
Finally the commission appointed Joslin to represent it at an upcoming town mediation regarding the appeal by Andrew Zins of the Planning Commission decision for PC-19-57-SA-Zins.