Around Town – Sept. 5, 2019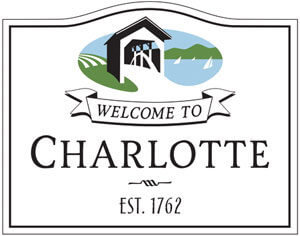 Achievements
 Congratulations to Jay Vogler whose exhibit of abstract oil paintings closed Aug. 31 at the Gallery at One Main in Burlington. Look forward to his next showing and, in the meantime, satisfy your hunger with his Pizza on Earth.
Charlotte recipients of bachelor's degrees in 2019 from the University of Vermont
Kathleen Bedell, Eleanore Blake, Stephen Donahue, Antonio Ferrentino, Aryn Hall, Jack Kantor, Elliot Mitchell, Frederick Morin, Kara Pflaster, Savannah Townsend and Dale Wilson.
Charlotters who earned placement on UVM's 2019 spring semester dean's list
Kathleen Bedell, Hannah Bernier, Samuel Comai, Alexander D'Amico, Allison Feeney, Meara Heininger, Maeve Higgins, Trevor McGlaflin, Kara Pflaster, Abigail Postlewaite, Benjamin Recchia, Andrew Slauterbeck Savannah Townsend and Margaret Young.
Charlotte graduates in 2019 from other colleges and universities
Madison Tieso, Castleton University; Beatrice Woodruff, Colby College, ME; Brandon Tieso, College of the Holy Cross, MA; Mariana du Brul, Community College of Vermont; Dylan Arthaud, Connecticut College; Rachel Shurberg, Ithaca College, NY; Avery Kidd, Quinnipiac University, CT; Alissa Stone, St. Lawrence University, NY; Benjamin Harff, Trinity College, CT; Connor Stewart, University of Utah.
Jonas Powell earned a master's degree from Wesleyan University, CT.
Charlotters on the 2019 president's lists
Madison Tieso, Castleton University; Daphne Plante and Kristian Young, Champlain College; Chelsea Kaigle, Northern Vermont University; Chase Haven, Vermont Technical College.
Andrew Gay earned placement on the Champlain College trustees' list for spring 2019.
2019 spring semester dean's list
Sabrina Davis, Adelphi University, NY; George Davis, Bucknell University, PA; Shawn Fortin, Celina Tong and Suzannah Zimmerman, Champlain College; Saige Alpeter, Gettysburg College, PA; Madison Randall, Ithaca College, NY; Kaelan Murdock and Jack Thibault, Lawrence University, WI; Shea Monsey, Northern Vermont University; Avery Kidd, Quinnipiac University, CT; Annabella Pugliese, St. Lawrence University, NY; Silas Cleveland, Union College, NY; Joseph Franceschetti and Conn Kelly, University of Delaware; Julie Sulva, University of New Hampshire; Chester Barber, Worcester Polytechnic Institute, MA.
Sympathy
Wilma Ward Preston passed away peacefully at home surrounded by family on Thursday, Aug. 15, at age 87. She was a 52-year resident of Charlotte, where she worked in the Charlotte Central School lunchroom for 23 years and prior to that volunteered in the classrooms for seven years. Wilma was a 56-year member of The Order of the Eastern Star in Castleton, Charlotte and Hinesburg where she held several offices and participated in numerous charity projects. Wilma found much joy in sharing her passion for people by performing with the Unpredictables at nursing homes, senior centers and community events for over 25 years.
Wilma was a warm and wonderful wife, mother and friend to all. Her natural love of her grandchildren was never ending and enriched their lives in countless ways. Wilma will be fondly remembered and greatly missed by all those whose life she touched and perhaps baked for.
Left behind to cherish her memory are her husband, Richard; son, Ward, and his wife, Debbie; daughters Diana and her partner, Patrick, Laura and her husband, Steven Mack, several grandchildren and great-grandchildren.
The family would like to thank the VNA Home Health and Hospice for the exceptionally kind and compassionate care Wilma received.
There will be no visiting hours or services per Wilma's request. Please consider a memorial donation to the UVM Health Network Home Health and Hospice, 1110 Prim Road, Colchester, VT 05446.
Arrangements are in care of Corbin and Palmer Funeral Home, 9 Pleasant Street, Essex Junction, VT. To view the obituary and leave on-line condolences, please go to corbinandpalmer.com.
– Submitted by Deb Hardy