Tools stolen from Charlotte Crossings construction site, police investigating potential leads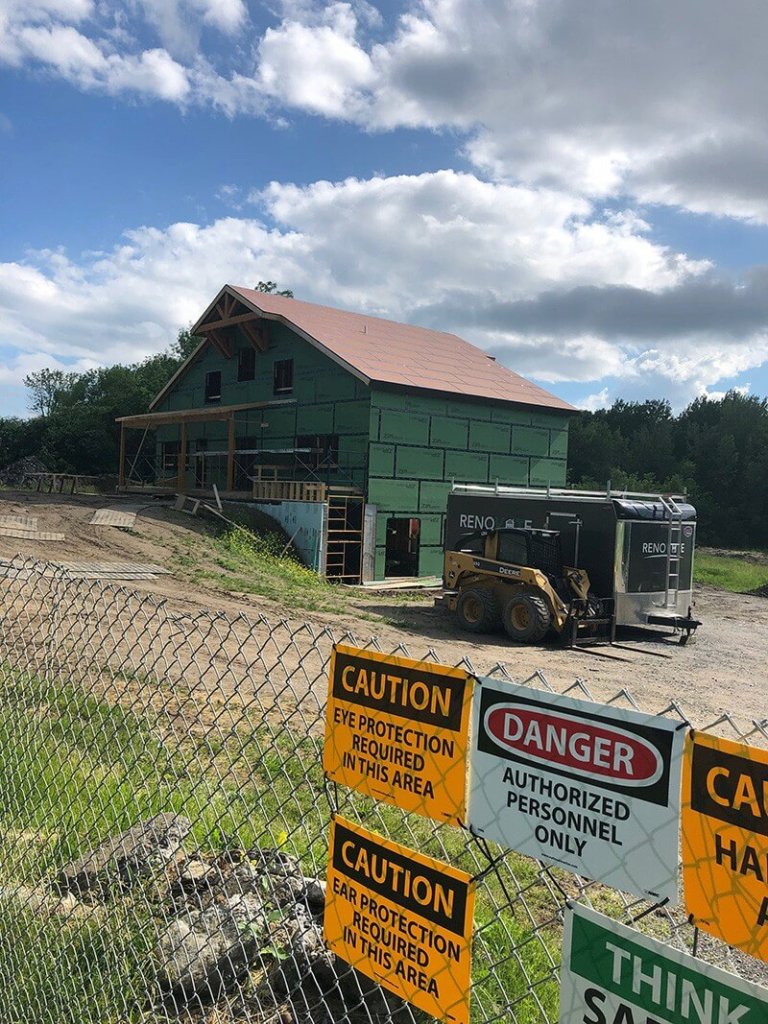 With a $3,000 dollar reward on the table and tips to the police generating from Facebok and Craigslist, Vermont State Police (VSP) continue their search for information relating to the theft of more than $10,000 worth of tools from the Charlotte Crossings construction site on Route 7. VSP believes the items were stolen between the evening of Tuesday, June 18 and the morning of Wednesday, June 19, when the theft was reported.
Forty items were taken from a locked construction trailer on a fenced-in property and include multiple drills, a scope camera, a chainsaw, bolt cutters, Sawzalls and a generator. Mike Dunbar, owner of RenoVaTe, the construction company that is building the new office building and restaurant, is also the owner of the property. He said in a public Facebook post that not only are state police investigating the theft but that he is personally offering a $3,000 reward to anyone with information "that leads to a conviction. If you see or hear of anyone that is selling tools real cheap, let me know because they are probably mine."
Responses to the Facebook post, which was shared over 400 times, included links to a listing on the classified ad site Craigslist. The post has since been removed from Craigslist, but a screenshot of the post shows that the person located in Milton, Vermont, who posted it wrote, in all capital letters, "I have several tools for sale I bought from Middlebury Fencing in the past few days, I won't post any pictures but I will show in person to serious cash buyers only!!!!!!!!!!!!!! Don't message me and ask what they are or for pictures, I want cash only no emailing back and forth."
Facebook user Keegan Carter responded to this alert on Dunbar's post with, "No way, if that is the same tools then it's the dumbest thief ever."
Corporal Andrew Leise with the Vermont State Police, who is based out of the Williston Barracks, only said in response to a query about whether this lead was being pursued, "Pending." Lieutenant Bob Lucas from the VSP said, "All I can tell you at this point is that the investigation is still ongoing and that no arrests have been made. [Cpl. Leise] continues to put a lot of time into this matter and turning every stone over."
Dunbar said he did not sell tools to anyone, not only not in the last week but not ever. "I have never sold a tool in 15 years. We use them until they wear out," he said.
Though Dunbar said he couldn't speak about many aspects of the case because it's still in progress, he did say that he had put up a security fence a short period of time before the tools were stolen and that the responsible parties cut the lock on the construction trailer after driving in from the back side of the property, through the flea market next door. "Someone was very knowledgeable about it. Someone did their homework," he said.
Though the theft is disheartening for Dunbar, he said he is "going to make lemonade out of lemons." He said that he's going to start renting security cameras and equipment, along with his security fences, in order to provide an extra level of safety and security for his customers—something he said he decided to forgo on this job because of the hassle.
Another positive outcome of the theft is the outreach from community members—some just saying they felt bad for Dunbar, others, though, offered a lot more. "I've probably received five emails from other business owners saying, 'I have tools if you need to borrow some,'" he said. He also said Jim Carroll from Rice Lumber in Shelburne reached out to tell him he would sell him all new tools at cost. "There's good people out there," Dunbar said.
Though he's appreciative of the support from his neighbors, Dunbar said it was important for him to offer the reward to send a message. "You don't do this to Mike Dunbar," he said. Leise said that though he hasn't seen an uptick in thefts from construction sites, it's wise to keep an eye out. "Addicts are always re-inventing the wheel in terms of getting money for drugs," he said.
According to a VSP press release, the thief or thieves could potentially be charged with grand larceny, trespassing and unlawful mischief. Anyone with information about the crime is asked to contact Vermont State Police Corporal Andrew Leise at (802) 878-7111.