Neighborhood says goodbye to Katie Palmer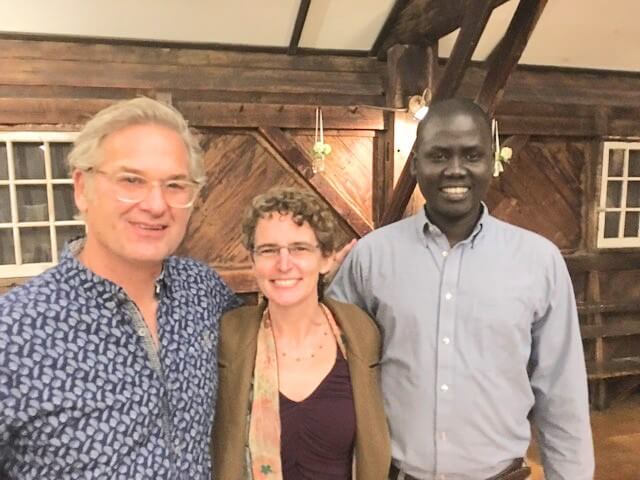 In a show of neighborly goodwill, more than 60 people turned up at the Old Lantern to say farewell to Katie Palmer on May 31.
A lively gathering from the neighborhood, broader Charlotte and a scattering of professional and social friends were there to give her a warm sendoff. Katie, a single mother, is moving with her two sons, Dylan and Charlie, to an island in Puget Sound after just over eight years in their Charlotte home. What makes her special is that she and her family were the first to move into one of the three Habitat for Humanity homes built on the previous Burns property across from the Old Lantern.
In that short period of time she has gone from her role as para-educator to the founder and director of the Two Roads Academy in Williston. She founded the academy two years ago when she recognized the need for a school that addressed the individual needs of students requiring "individualized and small group learning in a developmentally appropriate, therapeutic learning environment." Katie describes her ownership of a Habitat for Humanity home as "pivotal in giving her stability, security and the financial capacity to expand her professional development." She has always endeavored to "make a difference and leave a legacy in educational and environmental affairs." She described her getting that particular house as "one of the most moving experiences in her life." Her move to the Seattle area is the result of her getting an even more challenging job opportunity in a private school there.
Katie's impact on the community at large was borne out by the multiple quotes given at the party. Lisa Gaujac, co-owner of The Old Lantern and hostess of the party, was quick to say that Katie and her family were model neighbors. She is very sorry to see them go. John Powell, the senior therapist at Two Roads Academy, described Katie as, "a joy to have with brilliance, a big heart and we have been lucky to have known her."
The home was built on town-donated land to meet the high standards set for passive solar homes by the Passive House Institute. It was the first of its kind in Vermont and has been the subject of many news articles about solar homes built by the Green Mountain Habitat for Humanity (GMHFH). The homes have become the heart of the affordable housing program in Charlotte with eight currently being occupied. The folks at GMHFH say that Katie will be sorely missed. They describe her as a "great and passionate ambassador who personified the definition of a good Habitat partner."
Under GMHFH rules, the home will be preserved as "perpetually affordable" and thus remain a key element in Charlotte's Affordable housing program. The hard work Katie and her family have put into landscaping and maintaining the house have greatly increased the value of the home.