Food Shelf News – May 30, 2019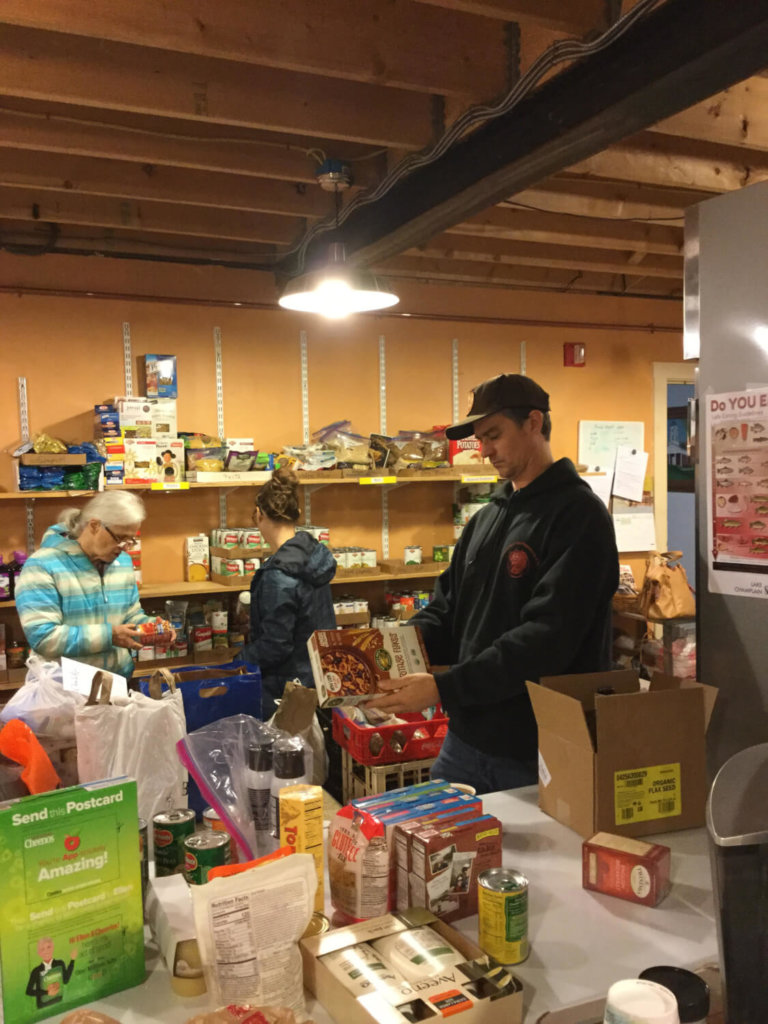 The purpose of art is washing the dust of daily life off our souls.
   ~ Pablo Picasso
In the spirit of feeding the spirit as well as the body, Katherine Stockman donated a lovely basket of art kits for children and young adults to enjoy over the summer. The idea comes from Color Our World (COW), a grassroots organization that promotes the idea that self-expression should be a part of everyone's life. COW designs art kits that are mobile and filled with crayons, colored pencils, markers, paints, colorful pipe cleaners, Wikki Stix, construction paper and more. COW has brought art supplies to six continents and 11 countries. Visit the COW website and learn more about the various ways people can get involved in this worthy endeavor:
The helping community
Thank you to the Berkowitz family for their large donation of flavored coffee and after-school snacks.
Thank you for the continued financial contribution from Anne Castle. Thank you to Gloria Gardner and Eileen Paragano for their donations in memory of James Murray. Thank you to Elizabeth Bassett and John Pane who donated in memory of Dr. Alexander Stevens, a longtime family friend. Thank you to Virginia Kleper, who donated in honor of Lady Mary Holmes' 85th birthday.
A big thank you to our U.S. Postal Carriers for their National Annual Food Drive to support local food shelves. Charlotte received a bountiful supply. John Lavigne, Ken Oboz and Bill Doris were drivers. Volunteers checking to make sure all items are well within the "use by" date before placing them on the shelves included Diane Cote, Nancy Bloch, Louise McCarren, Giles Anderson, Anne Marie Andriola, Cindy Tyler, Susan Ohanian and Karen Doris.
A need
Donations to help with monthly diaper purchases would be gratefully appreciated. Please note that specific sizes are needed, and with tax exempt status, the Food Shelf does not pay sales tax. This means that monetary donations specifying "diapers" will go further than actual diaper donations (which create a storage dilemma when they aren't the needed sizes).
Tune in next month for an exciting announcement of joint projects from the Charlotte Congregational Church, the Library, the Grange and the Boy Scouts.
Important Distribution Dates at the Charlotte Congregational Church
Wednesday, June 12, 26, 5:00 p.m. – 7:00 p.m.
Thursday, June 13, 27, 7:30 a.m. – 9:00 a.m.
Financial assistance
As a reminder, the Food Shelf has some funds available for emergency assistance with fuel and electric bills. You may contact Pat Rodar at (892) 425-3083 if you need assistance. We are available to all community residents. Privacy is very important and respected in our mission of neighbor helping neighbor.
For emergency food call John at (802) 425-3130.
For emergency assistance (electricity, fuel) call Pat at (802) 425-3083.
For more information call Karen at (802) 425-3252.
Donations
We are a volunteer organization, so all donations you make to the Food Shelf go directly for food or assistance to our local neighbors in need. Should you wish to honor someone with a donation, a special acknowledgement will be sent to that person. Checks may be mailed to Charlotte Food Shelf & Assistance, P.O. Box 83, Charlotte, VT 05445. Thank you.
Donated food drop-off locations
All nonperishable food donations may be dropped off at the Charlotte Library, the Charlotte Congregational Church vestry, Our Lady of Mt. Carmel Church (main entrance) or at the Food Shelf during the distribution mornings. Please check the expiration date.
We request that all fresh foods be dropped off at the Food Shelf before the Wednesday distribution hours or before 7:30 a.m. on the Thursday distribution mornings.
Baked goods for the Hunger is Hard (Baking is Easy) group can be dropped off on the Wednesday distribution dates by noon at the Congregational Church or at Holly Rochefort's house at 86 Spear Street, where a bin sits on the porch.
The Charlotte Food Shelf is located on the lower level of the Charlotte Congregational Church vestry. Distribution days/times are posted on bulletin boards in the Charlotte Congregational Church Hall, at the Charlotte Library and at the Charlotte Senior Center. You may also call the Food Shelf number, (802) 425-3252, for a recording of the distribution times.