A new season at Mt. Philo brings changes for the pooches and others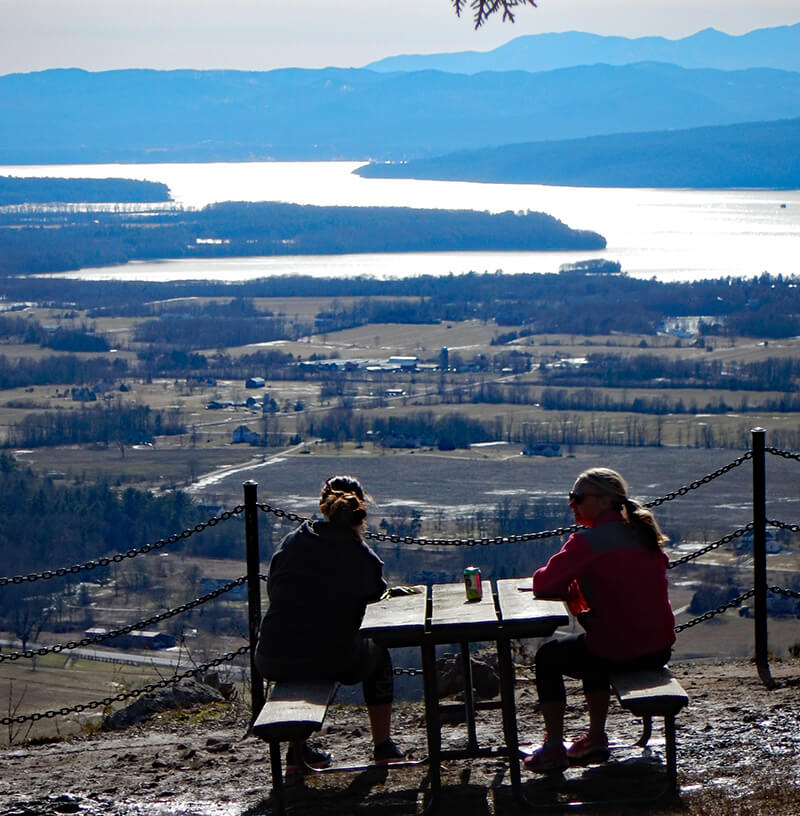 In its 95th anniversary as a state park—Vermont's oldest—Mt. Philo State Park continues to be a draw for visitors from all over the state and the country. It's also a popular destination for Charlotters, who take advantage of its leafy walkways and panoramic views for everything from a morning walk to a family reunion. The park opens the Friday of Memorial Day Weekend this spring, and with its opening some significant changes are at hand.
Regular visitors will feel an affect from the changes more acutely than the occasional visitor. Reuben Allen, parks regional manager with Vermont State Parks, coordinates state parks in in the southwest region of Vermont. He said that regular park hours will change from a 10 a.m. opening to an 8 a.m. opening at some point during the season, though he's not sure when this change will be implemented. The park will still close daily at sunset, and a week later than usual for the season, on Oct. 20, to allow more leaf peepers to check out the fall foliage.
Local walkers, many of whom hit the trails at Mt. Philo early in the morning, will eventually be charged to use the park during all opening hours. Allen said the park will be staffed starting at 8 a.m., but they "will not collect fees until 10 a.m. There is an internal review about when and where, and if and when we will start collecting fees at 8…That's not going to happen to start out the season." He said that regular park users will have ample warning before the new fee schedule is implemented, and that there are several affordable pass options.
Allen said the park's earlier hours will allow Vermont State Parks officials to keep better track of how many visitors use the park, to get more face time with those who use the park, and to make sure that people are aware of the new rules regarding dogs and leashes. This last change will have a major impact for local hikers.
Park visitors who bring canine friends with them will see new guidelines. Though they're not implemented as official policy yet, Allen said that in the near future all dogs on state land will need to be on-leash year-round, no matter the time of day. Many Mt. Philo visitors currently walk with their dogs off-leash in the hours before the park officially opens for business, but Allen said this will have to come to an end. He said he can't pinpoint when, but that it will be during this calendar year.

Allen also said that once the park opens for the season, all dogs will need to remain on a leash at all times. "This is for the safety of pets and safety of visitors," he said. "We ask that people are responsible and use good judgment."
Longtime park rangers John and Kim Frigault will not be returning to Mt. Philo this year. Park rangers Colleen Metzler and Pam Brady will occupy the house and garden at the crest of the hill and lead the management team at the park. Allen said they both have a "tremendously positive attitude and experience working with us and Vermont state parks…The park is going to be in very, very good hands for this season."
The new rangers will be key toward taking the park into the next phase existence. Allen said, "We're toward the tail end of a long-range management plan—the final version of the plan will be available within next couple months—and we have a couple new projects. One is improvements to basic maintenance, the trails system, the summit trail, and widening the path in some areas."
Allen said that there are future plans in the works for the park, as well. "We also have recently been accepting bids from landscape architecture engineering firms to help us come up with an improved design for the park entrance, parking improvement, and the summit area; to improve the flow of people and to help manage the number of people up at the summit." He said they hope to award the work in the coming weeks, although the actual construction wouldn't take place until at least 2020.