Charlotter to compete on American Ninja Warrior Junior airing this weekend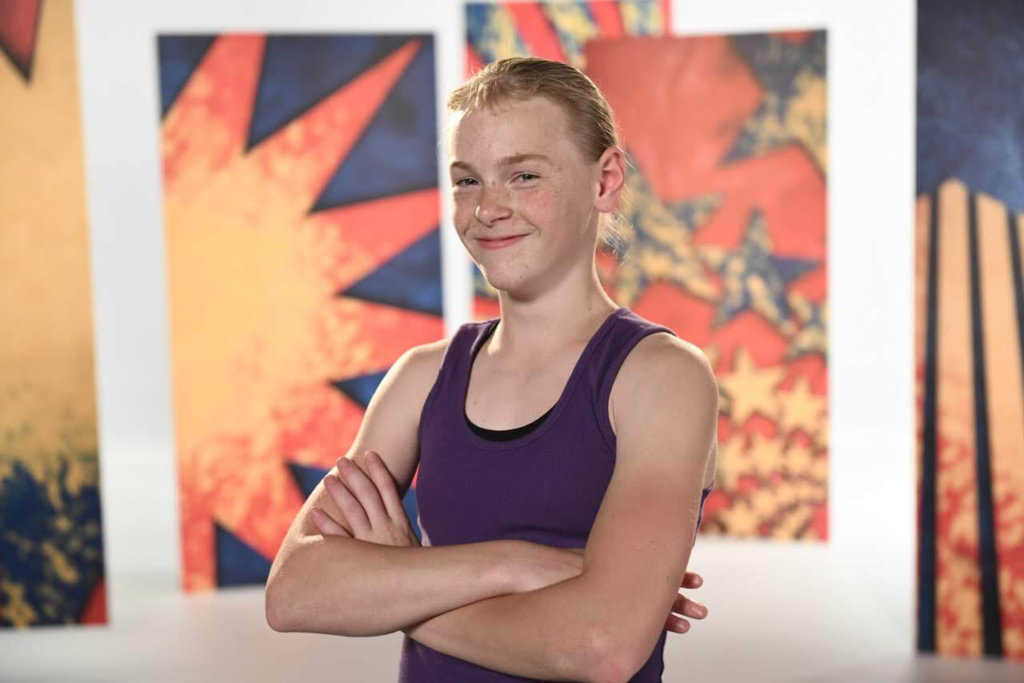 "I guess I'm really surprised that I got picked to compete on the show—so many kids applied." says Rose Lord of Charlotte, describing her experience of being chosen to compete on Universal Kid's American Ninja Warrior Junior's first season. "And I'm really grateful; I got to fly to Los Angeles and hang out with other Ninja kids from all over the country. Being a Ninja means being part of an awesome, really supportive community."
Rose, a 7th grader at The Schoolhouse in South Burlington, is described by her teachers as the only student who does not make them wince with fear when she gets herself high in a tree or up on top of the swing set.  "We have always known she has ninja powers and can get herself down safely," explained Liz Shayne, Head of School.  Luke Albers, age 11, of South Burlington, observed of Rose's participation,  "I just think that Rose does really, really well at ninja – even compared to adults, sometimes she's even better than them. It was really cool to see somebody from my own school kicking butt up there on national tv!"
Rose, who trains at the Vermont Ninja Warrior Training Center, part of Regal Gymnastics in Essex, was selected as one of almost 200 male and female competitors aged 9 to 14 who attacked the course for the show. As described by Universal Kids, "American Ninja Warrior Junior celebrates a kid-centric movement that everyone can be a part of and enjoy together. It… encourage[s] and inspire[s] all kids to push their limits and not shy away from challenges."  The show includes head to head matches during which Rose and her fellow Ninjas take on such iconic Ninja Warrior obstacles as the Sonic Swing, Tic Toc, Spin Cycle, and the Warped Wall.
Rose describes her artistic creativity and growing up by Lake Champlain in a feature piece about her on Episode 11. "I see everything as an opportunity to jump on a tree and swing around," explains Rose in her Ninja interview. "I definitely see obstacle courses everywhere.  I feel like that has inspired me to be creative and have fun."
Beyond her athletic prowess, Rose's kindness and generosity shine through on the show, whether talking about her love of Lake Champlain, her family's support of her artistic and athletic abilities, or peering over her shoulder—in the middle of the course—at her friend who had struggled in an earlier round. "Rose just makes it look effortless; she was cool as a cucumber, intensely focused and ended each round of competition with her beaming smile, all the way to the semifinals," said Shayne, after viewing the first episode on which Rose competed. "Her humility, joy, and skill all shine through", said Shayne."  "And, I am so curious to see how Rose does when Universal Kids airs the semifinals on April 13."
How will she do in the semifinals? Will she make it to the finals? Rose knows the answer — the show was recorded last summer — but is not allowed to say how the competition turns out.