It's the season of fall-stars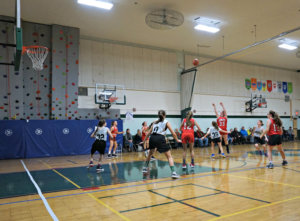 With fall sports wrapped up and winter ones just beginning, the lists of all-star selections by both coaches and the Burlington Free Press have come to life, with a good number of Champlain Valley Union athletes on them. Given the school's large size and its healthy sports climate, virtually every all-star roster contains Redhawks. But let's begin with some national news.
Women's cross country team finishes in the top-20 nationally
With Nike Sports paying for their travel and lodging, the seven-member team flew to Oregon for the Nike Cross Nationals where they finished 19th out of 22 teams. According to coach Scott Bliss, that is the best they have done in three visits to this meet. A 5-kilometer race, CVU moved up from 21st place in the final mile to its spot two teams higher. Bliss said that four out of the top five Redhawks ran their best times ever. Ella Whitman, Alice Larson, Charlotte's Chloe Silverman, Jasmine Nails and Cate Noel were the first five. Charlotter Sadie Holmes was the sixth Redhawk to cross the finish line with Alicia Veraneau the seventh. Over 200 runners from across the country competed. Most ran the circuit in under 20 minutes.
First and second all-state volleyball teams
Seven Redhawk women appeared on the Vermont Volleyball Association's categories of the state's top-ranked players. Senior co-captains Julia Daggett and Olivia Werner earned first-team status, with the third co-captain Charlotter Rayona Silverman leading the second-team selections, along with Mekkena Boyd, Mackenzie Detch and Natalie Senior. Senior Alli Selwah received honorable mention.
Six male Redhawks earned first-team honors, including Charlotter Alden Randall. He was joined by Noah Allen, Baker Angstrom, Joseph Boliba, Ethan Harvey and Devin Rogers. The second all-state team had another Charlotte product, Raz Hansen, plus opposite hitter and middle blocker Liam Freeman, setter Storm Rushford and hitter and blocker Cooper Snipes.
Soccer to me
The Free Press men's all-state soccer team contained three members of CVU's state champions, who ended with a 16-0-2 record. Junior Jonah Roberts was voted in at midfield; he also was a coaches' selection and a Metro Division all-star. Two defenders, senior Luke Morton and junior Cullen Swett, made the team as well. Cullen also achieved first-team status from the coaches and in the Metro Division. Honorable mention went to junior midfielder Jack Sinopoli and senior goal tender Aidan Johnson.
Redhawk women's co-captain Sydney Jimmo was named to the regional all-star team.
Football coaches make their selections
Despite not making the playoffs, CVU had several players picked for honors by the Vermont football coaches. The all-state second team contained linemen Bennett Cheer and Zach Gamelin on offense and defense, with Charlotte's Cole Boffa as a defensive linebacker. Cole and his brother Seth Boffa received honorable mention on offense, Cole as a lineman, Seth at running back. Fullback Jack ZuWallack and tight end Caleb Jenson gained honorable mention as well. On defense Caleb again made the roster as a lineman while two Ryans, Anderson and Canty, were cited for their prowess as backs.    
Wrestlers open the season in the Adirondacks
Believe it or not, two weeks of training before a first match is not that much for wrestlers. So when the Redhawk grapplers headed across the lake to the Northern Adirondack Tournament on Dec. 8, they did not know quite how well prepared they would be. As it turned out CVU placed seven wrestlers in the top four spots of their weight classes, with two seniors dominating their weights, Justin Bissonette at 170 and Jared Forsythe at 182. Two others were runners up: Will Murphy at 195 and Sean Trifaro at 220. Luke Leonard at 113 and Matt Trifaro at 152 placed third, and Riley Brown fourth at 126. The team tied for fourth place in the meet. Coach Gunnar Olson said that he was proud of the team's showing and feels that they have "desire and motivation . . . two main ingredients for a successful outcome."