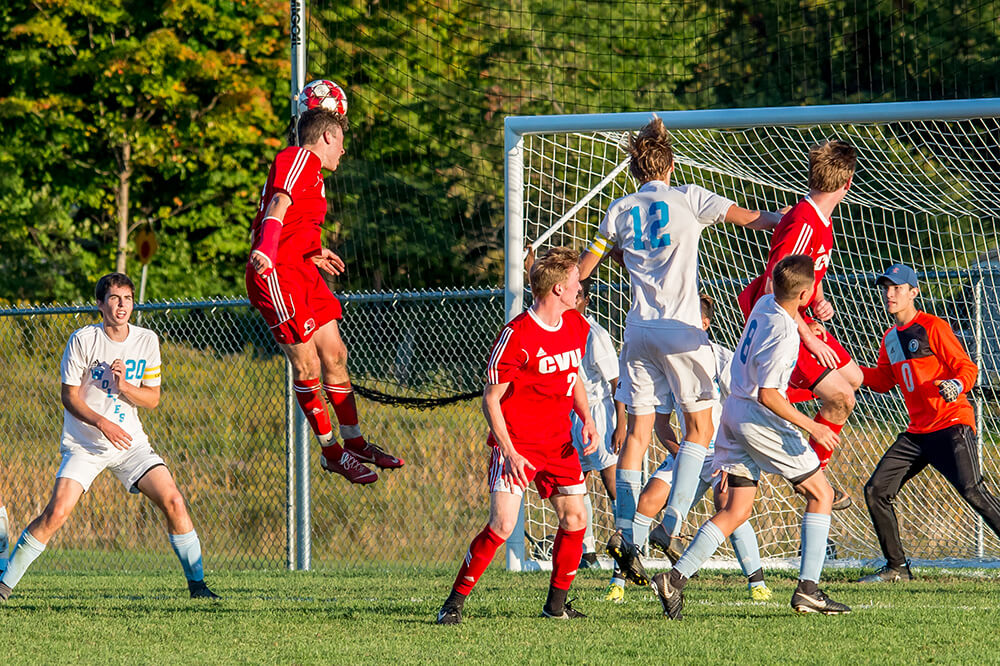 CVU shows it is "Soccer Central" plus
Back in the old days of fall sports, CVU was known as "Soccer Central" because it was that in the state, and there was not much else. Now, however, there is "else" in the Redhawk picture, primarily cross country and volleyball, which also stand undefeated this year, and football, which, while off to a rocky start, looks to improve over the course of the season so that its future years can make it competitive with its traditional rivals.
Women's soccer wins two shutouts in the last two weeks
Beginning with St. Johnsbury Academy on Sept. 24, the Redhawk women continued their unbeaten streak, winning three and giving up only a single goal in the process. Tied early in the game, CVU came back midway in the first half against St. Jay, scoring three goals to take the lead it never relinquished. After Josie Pecor led off the scoring, Charlotte's Lilly Cazayoux put CVU ahead with an assist from Maddi Hubbard. That was all that was needed as the Hawks went on to a 4-1 victory. Goalie Maryn Askew had to stop only a single shot against 20 saves for the SJA tender.
Having decided that one goal-against was enough over the three-game span, the Redhawks shut out Essex on Friday. Josie Pecor led the scoring with a pair of goals and an assist. Sara Kelly, Elizah Jacobs and Charlotte's Ella Woodruff also scored, with Ella and Sarah adding assists. With another low-save number (2) by goalie Askew, CVU showed its ability at midfield and defense to keep the ball at midfield and away from the tender.
On Saturday with the South Burlington Wolves in town, CVU came away with another shutout, 3-0. Heading a corner kick into the net, co-captain Sarah Kelly led the scoring before following up with a second goal. Josie Pecor took advantage of another corner, again from Olivia Zubarik, heading in the third tally. The Hawks outshot the Wolves 9-4.

St. Jay and South Burlington also fall to the Redhawks in men's soccer
Following their sisters and playing a tight defense, the Redhawk men remained unbeaten (tied twice) by topping St. Johnsbury 2-0 and South Burlington 4-0. James Schmidt buried a goal in each game, while his midfield partner Jack Sinopoli set him up in the first contest and scored himself in the second. The Wolves did place two more shots on goal than the Hawks. However, CVU goalie Aidan Johnson kept them all out of the net. The Redhawks' record was 5-0-2 as of the 28th.
Field hockey stands at three wins, three losses and a tie
It could easily have been a fourth win for CVU field hockey had it not been for a last-minute goal by Mt Abe. Flynn Hall tied the game for the Hawks early in the second half with three of her mates gaining assists. CVU goalie Kristy Carlson had to make only five saves to the Mt. Abe tender's 15. 
Football drops another
A porous defense and an offense that does not seem able to jump-start itself leave CVU football's season record at 0-5. The latest defeat was at the hands of the combined Burlington/South Burlington squad 35-13. The SeaWolves ran a strong offense in the first half to take a 28-7 lead going into the locker room. Zu Wallack and Jason Rosner scored the Hawks' two touchdowns. Zu ran for 52 yards, one short of his teammate Alex Murray's 53.