Charlotters driven to electric cars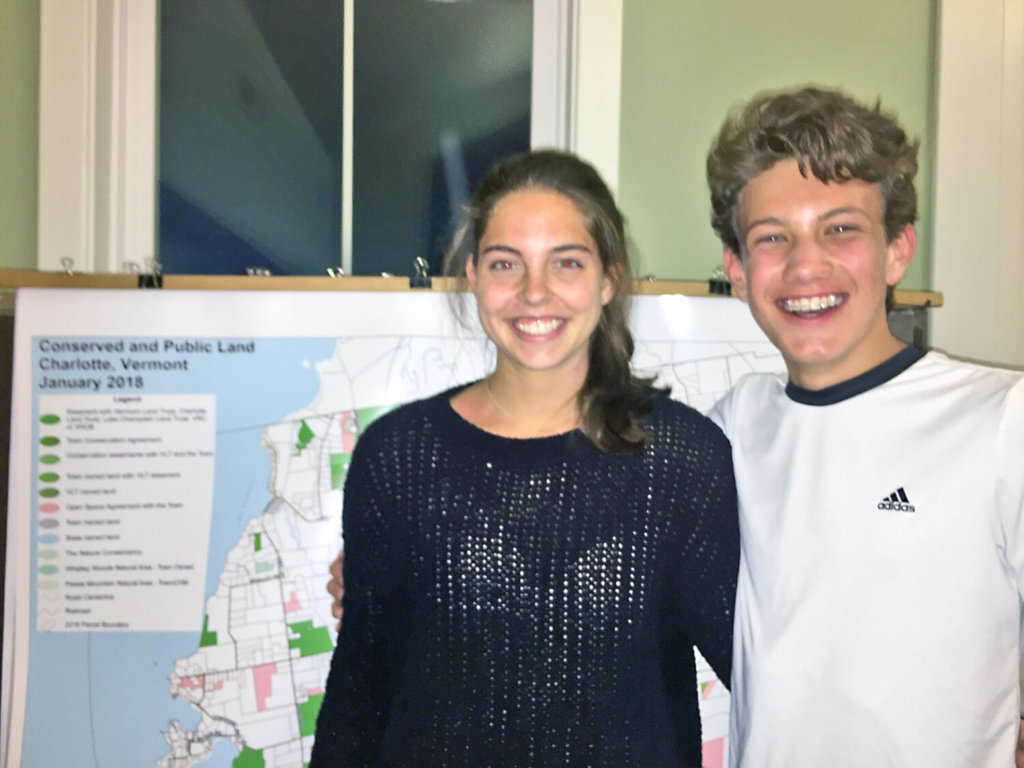 Charlotters have been quietly leading the movement to bring electric vehicles (EVs) to Vermont's roads. On a per-capita basis, there are now more electric cars—60 in total—in Charlotte than anywhere else in Chittenden County.  Several of those EV drivers brought their cars for display and joined a group of 30 to listen to a presentation by Dave Roberts from Drive Electric Vermont last Wednesday evening at the library.
We learned that electric vehicles come in two types. The plug-in hybrid vehicles are the most popular because they have a back-up gasoline engine that takes over whenever the batteries have been drawn down, extending the range of the car. Typically, these cars are plugged in overnight at home, ready to head out on battery power the next morning. Popular plug-ins include the Toyota Prius Prime and the Chevy Volt among the 20 models now available in Vermont. Driving range is from 180 to 640 miles on full batteries and gas tank. There are now nine all-electric car models available in Vermont, including the Nissan Leaf, Tesla Models 3S and 3X and the Chevy Bolt. Driving range is between 110 and 330 miles on a fully charged battery.
All-electric cars are two to three times more efficient than gasoline cars and require almost no ongoing maintenance—no oil change, no spark plugs, catalytic converters or other emissions equipment. As a result, all-electric cars need to be serviced only once or twice a year to check vehicle systems and rotate the tires.
EVs are in early adoption stages in Vermont, making up about two percent of all vehicle purchases in 2017—still, the highest percent in New England. Today's EV buyers may be financially motivated. Transportation accounts for 52 percent of household energy expenses in Vermont, and gas prices are currently on the rise. Over the past five years, Vermont's electric vehicle owners have saved about $2,800 on their fuel costs, not to mention reduced maintenance and repair bills. Put more simply, charging an electric car is like paying $1.50 a gallon for gas.
Getting more EVs on the roads is part of the state's Comprehensive Energy Plan and its overall goal of 90 percent renewable by 2050. At this point, transportation accounts for almost half of Vermont's greenhouse gas emissions. The plan calls for a gradual replacement of gasoline light vehicles with EVs and diesel heavy-duty vehicles with biodiesel. To stay on track toward the goal, Vermonters should be driving 20,000 EVs by 2025. That's a big increase over the 2,500 EVs on Vermont roads today.

What about winter performance, you may ask? Battery efficiency goes down by between 20 and 40 percent depending on how cold it gets and consequently reduces the range. This fact alone helps account for the popularity of plug-ins over all-electric vehicles here in Vermont.
What if you're using your all-electric vehicle for long drives? While the vast majority of EVs are charged at home or at work, there are now 165 public charging stations in Vermont. Many more are needed, especially the fast-charging stations that require a relatively short 40 to 60 minutes to replenish the battery. If another car is already plugged in when you arrive, you'll have to look for another charging station (cell phone apps have this information) or wait. If you have a plug-in, you just head to the gas station when you're low on fuel.
If you're in the market for an EV, here are a couple of tips:
Visit the Drive Electric Vermont web site where you will find lots of useful and practical information, including a Buyers Guide, a map that shows public charging stations and a discussion of the benefits of electric vehicle ownership.

 

Stop by your local dealerships and gather information and ask questions, especially about any local promotions; many Vermonters purchased Nissan Leafs last fall and saved $10,000 off the regular price.
Check out the financial incentives that are available. These include a

 

$4,000 to $7,500 federal tax credit, and several Green Mountain Power programs for low-income Vermonters, in-home level-two chargers and Nissan Leaf buyers.
Many thanks to Charlotters for their keen interest in transitioning to EVs, to Dave Roberts for his informative and interesting presentation, and to the Charlotte Library for hosting this event, which was organized by the Charlotte Energy Committee.