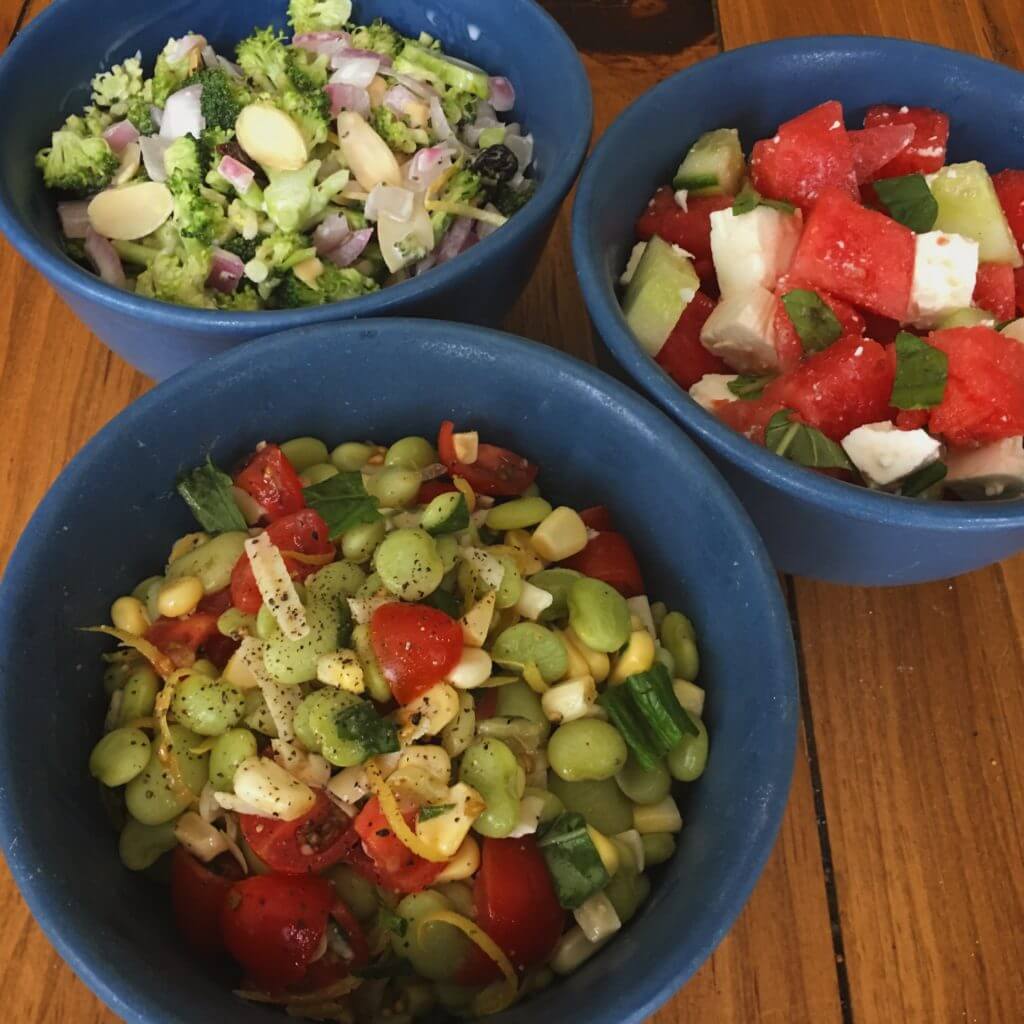 School is almost out and June is just around the corner. The season of potlucks, barbecues and picnics is upon us. When "what can I bring?" was met with "how about a salad?" I used to silently protest. Salads are so…unglamorous. "How about a signature cocktail?" I would counter. "Oh. You can bring that too." So I've created a few go-to dishes that are colorful, nutritious and tasty. And, most importantly, they are simple. As always. These days I get special requests – especially for my Lima Bean Salad – which combines sweet crunchy corn with creamy beans and lemon. Who would've thought lima beans could be so fetching?
Keep these crowd-pleasing salads in rotation for parties or quick healthy meals at home. They are perfect for feeding large crowds inexpensively with easy-to-find ingredients and minimal fuss.
Lima Bean Corn Salad
This salad has converted many lima bean nay-sayers into lima bean aficionados – including yours truly. Bring it on a picnic or serve with grilled meats, sausage or fish for a simple nutritive meal.
1 10 oz. package of frozen lima beans (approximately 3 cups cooked)
2 ears fresh corn (approximately 2 cups kernels)
1 1/2 cups halved or quartered grape tomatoes (sun-dried or oven-dried tomatoes work well too)
Zest and juice of 1 or 2 lemons or limes to taste
1/2 cup chopped shallots or scallions (optional)
2 Tbs. olive oil
Handful slivered fresh basil or chopped dill
1 cup freshly shaved parmesan cheese
salt and freshly ground black pepper to taste
Cook lima beans al dente according to package instructions. Rinse quickly then put in mixing bowl while still slightly warm. Toss with olive oil, coarse salt, and pepper. Once cooled, combine with the rest of the ingredients. Garnish with fresh chunky parmesan shavings and herbs.
Broccoli Slaw
This slaw is a great addition to any cookout. It's best prepared at least a few hours in advance and will keep for about three days. I usually put it in a zip-lock bag or container with a lid and gently shake it from time to time to get the dressing to spread evenly and to saturate the broccoli.
1 medium head of broccoli (approximately 4 cups)
1/2 red onion, chopped
1 cup mayonnaise
2 Tbs. maple syrup (or sugar)
Juice and zest of 1 or 2 lemons
2 tsp. celery seeds
Salt and freshly ground black pepper to taste
Add any combo of the following depending on your tastes and what you have on hand: sunflower seeds, chopped walnuts, slivered almonds, raisins, dried cranberries, currants or chopped grapes
Finely chop broccoli florets and stems.
Whisk together mayonnaise, maple syrup, lemon juice and zest, celery seeds, salt and freshly ground pepper.
Combine the dressing with the rest of the ingredients. Stir well before serving.
Watermelon Feta Salad
Make this unbelievably simple summery salad in minutes and delight friends and family of all ages. If you have the time and are feeling especially creative you can use a melon baller to scoop out the watermelon flesh and then use the carved-out rind as a serving bowl. Bring this to a big barbecue and you won't have to worry about getting your dish back!
4 cups chopped watermelon
2 cups crumbled feta cheese
2 cups chopped cucumber
1 handful slivered mint or basil
2 Tbs. snipped chives (optional)
2 Tbs. balsamic or fruit-infused vinegar (optional)
Coarsely ground black pepper (optional)
Toss ingredients together. Top with fresh mint or basil.