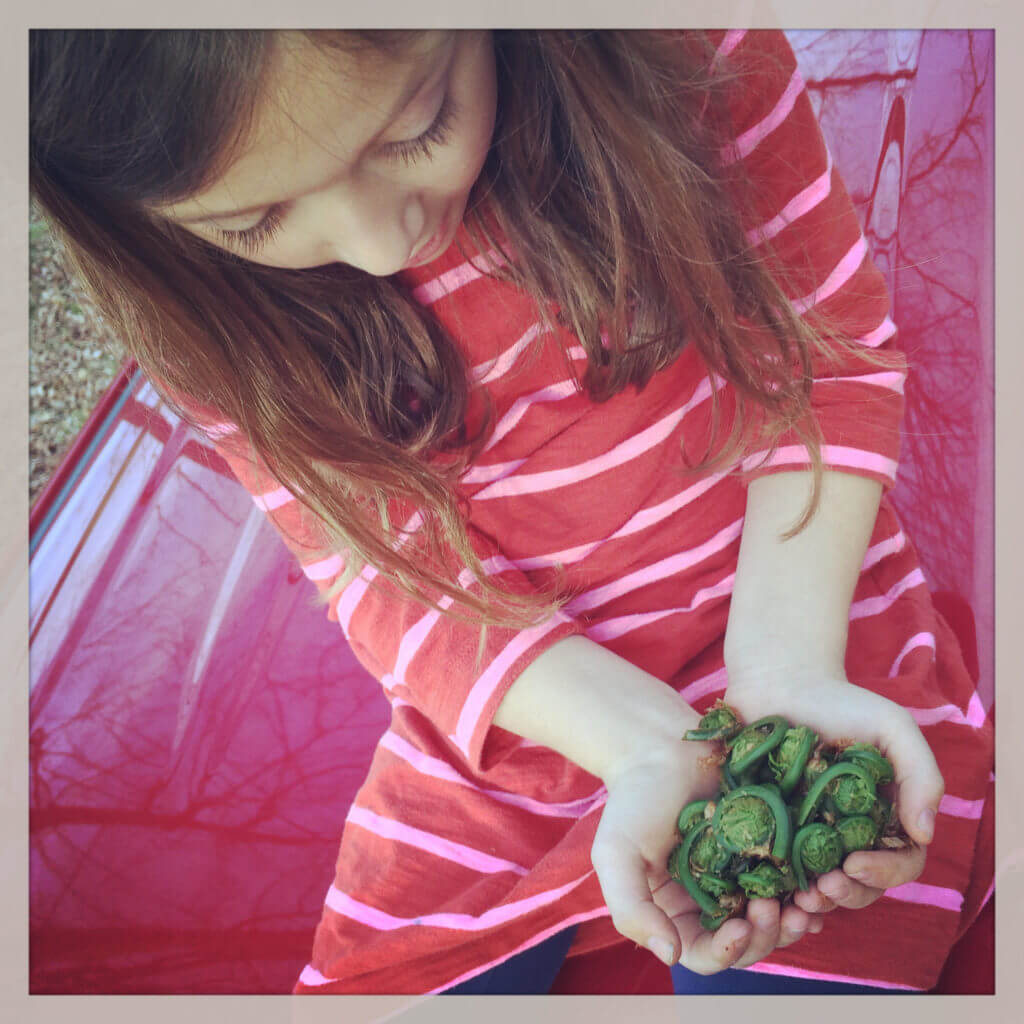 When the April breeze becomes rich and earthy, I start thinking about one of my favorite hobbies: foraging for fiddleheads. There is something primitively satisfying and uniquely meditative about collecting these little wild gems. Fiddleheads are the tightly coiled fronds of the ostrich fern that reveal themselves through the moist and fertile spring soil. They earned their name because they resemble the curled up stem of a violin or fiddle. 
In our neck of the woods I usually start checking my secret spots around Cinco de Mayo. Since fiddleheads are only harvestable for a few days, it's a best to be diligent in your efforts to find them. Fortunately for us, this typically entails visiting some quintessentially beautiful Vermont landscapes. As fiddleheads grow in lush settings, you will likely enjoy foraging along riverbanks and streams.
Fiddleheads emerge from the mounds of last year's plants, so one tell-tale sign to look for is the dried up stems of old feathery fronds. Fiddleheads are usually partially covered by papery brown sheaths that easily rub off. Ostrich ferns are identifiable by a deep channel along the inside of the sleek stem. Be sure to leave a few behind on each plant in order for it to continue to thrive. As there are different types of ferns and some are inedible, if you are unsure, check with an experienced forager or consult a trusty guide or the internet for proper identification.
Not surprisingly, fiddleheads have a rustic taste with hints of asparagus and spinach, and they can be substituted for asparagus in most recipes. They must always be cooked, so resist the urge to sample your bounty until they are cleaned and boiled or steamed. Once they have been cooked (and ideally not over-cooked), you can simply sauté them as a side dish or use them in salads, pastas, stir-fries, soups and egg dishes.
Since the fiddlehead season is so short-lived, I like to freeze some of my harvest for later use. I also make a few jars of pickles to enjoy throughout the year.
Simple Sautéed Fiddleheads
1 pound fresh fiddleheads
Salt and freshly ground pepper
1/2 tablespoon butter, olive oil or avocado oil
1 clove garlic or 1 small shallot coarsely chopped
Lemon juice and zest, or soy sauce
Remove papery skin and trim the browning stems from fiddleheads. Wash thoroughly in cold water.
Bring 2 quarts water and 2 tablespoons salt to boil and add the cleaned fiddleheads. Cook them for 2 minutes then rinse in cold water or submerge in ice bath. Drain and spread on paper towels to dry a bit.
Heat oil or butter in sauté pan and add blanched fiddleheads. Sauté for about 5 minutes until they start to brown a bit. Add garlic or shallot and sauté for another minute.

 

Season to taste with fresh lemon juice, zest, salt and pepper or soy sauce.
Pickled Fiddleheads
I've learned that processing jars of fiddlehead pickles in a hot water bath can take away their wonderful crisp texture. I like using the inversion technique to create a seal on the jars, or I simply store my creations in the refrigerator where they will last for several months.
1 pound fresh fiddleheads
2 small garlic cloves, smashed
1 teaspoon dill seeds
1 teaspoon smashed black peppercorns
2-3 fresh or dried bay leaves
1 teaspoon mustard or coriander seeds (optional)
1/2 teaspoon red pepper flakes or 1 crushed fresh or dried chili pepper (optional)
1 cup apple cider vinegar or white vinegar
1 cup water
Kosher salt
Wash and sterilize jars.
Clean fiddleheads by removing chaff and trimming off any brown stems. Rinse in a few changes of water baths until water runs clear. Bring about 2 quarts water and 2 tablespoons salt to a boil. Add fiddleheads and cook for 5 minutes stirring occasionally. Immediately drain in colander and rinse with cold water to stop the cooking process. Gently press against them to remove excess water.
Pack fiddleheads, spices and garlic into jars.
In small saucepan bring vinegar, water and 2 teaspoons salt to a boil.
Pour hot liquid into jars to cover the fiddleheads and spices. Allow to cool and refrigerate. Let them pickle for at least a week before enjoying them.