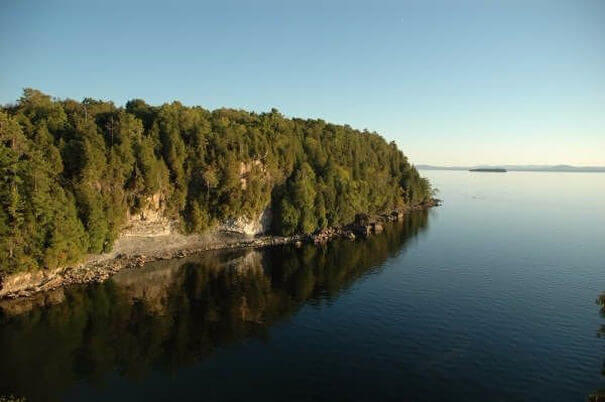 Take a walk on the wild side of Burlington! Rock Point is the largest parcel of undeveloped land in the city. Miles of trails, breathtaking views and natural wonders await. Here's what you need to know.
Rock Point encompasses 130 mostly forested acres including one mile of Lake Champlain shoreline. Since 1854 the Episcopal Diocese of Vermont has protected and stewarded this treasure. A significant campaign at the diocese aims to cement the future of this parcel. This deliberate process contrasts with the sale of 33 lakefront acres by the Catholic Archdiocese of Burlington to Burlington College. Subsequently, under financial pressure, the college sold the land to a developer.
Trails thread across a landscape that includes Rock Point School, Bishop Booth Conference Center, the Episcopal Bishop's 19th century residence, an outdoor chapel, Burlington Community Gardens, a solar installation and a summer camp.
The 2.8 miles of trails pass beneath towering hemlocks and hug the shoreline for long stretches, affording fabulous views of the lake and Adirondacks. As is true along many stretches of Lake Champlain, tortured white cedar trees cling to rocky outcroppings above the water's edge. On a recent stop at Eagle Bay, a lone eagle soared overhead while ravens scolded anyone within earshot.
Rock Point is also home to an unusual geologic feature, the Champlain Thrust Fault. Along this nearly 200-mile fault, older dolomite has been thrust above shale that is 40 million years younger. Geologists travel from afar to see the Lake Champlain Thrust Fault at Rock Point, perhaps the best viewing site along the length of the fault. If this sounds familiar, Mt. Philo also features older quartzite at its summit thrust over younger, softer shale. The brittle shale on Mt. Philo crumbles beneath the weight of the quartzite. This crumbling shale is visible on the downhill road not far from where it merges with the uphill lane.

Natural communities at Rock Point include sand dunes, a natural sand beach, lake bluff cedar-pine forest, and mesic oak-hickory-northern hardwood forest. The property also protects 200 plant species, of which 20 are threatened, rare or uncommon, all protected under Vermont's Endangered Species Law. In addition more than 40 vertebrate species call Rock Point home. The City of Burlington has embraced this special land by designating it as part of its "sustainable forest community."
Fortunately for our greater community, Bishop Thomas Ely's vision for Rock Point includes conserving the property and making it more accessible to the public. To that end the Church as hired Ellen McCulloch-Lovell, former president of Marlboro College, to help raise $1.7 million for the Partnership Campaign for Rock Point. Working part time for the diocese, McCulloch-Lovell seeks grants and philanthropic support to protect this special place.
"We see this entire property a sanctuary," McCulloch-Lovell says, speaking for the many who care about Rock Point. "Just being here brings a sense of reverence and calm."
Other tangible reasons to conserve the property include its environmental contributions not just to Burlington but also to Lake Champlain. "Consider water quality issues in Lake Champlain," McCulloch-Lovell says. "This land with its old trees, wetlands and undisturbed soils acts as an important buffer between the city's pollutants and the lake."
Rock Point hides in plain sight beyond Burlington High School. After passing the high school take a right onto Rock Point Road. Pass Rock Point School on the left and park in a small lot on the right across from the brick Diocesan Center. Visitors are encouraged to make a voluntary donation toward the protection of this special place. Daily passes are available for $5 per adult and $12 for a family. Details at the Rock Point website.