This old house, Charlotte-style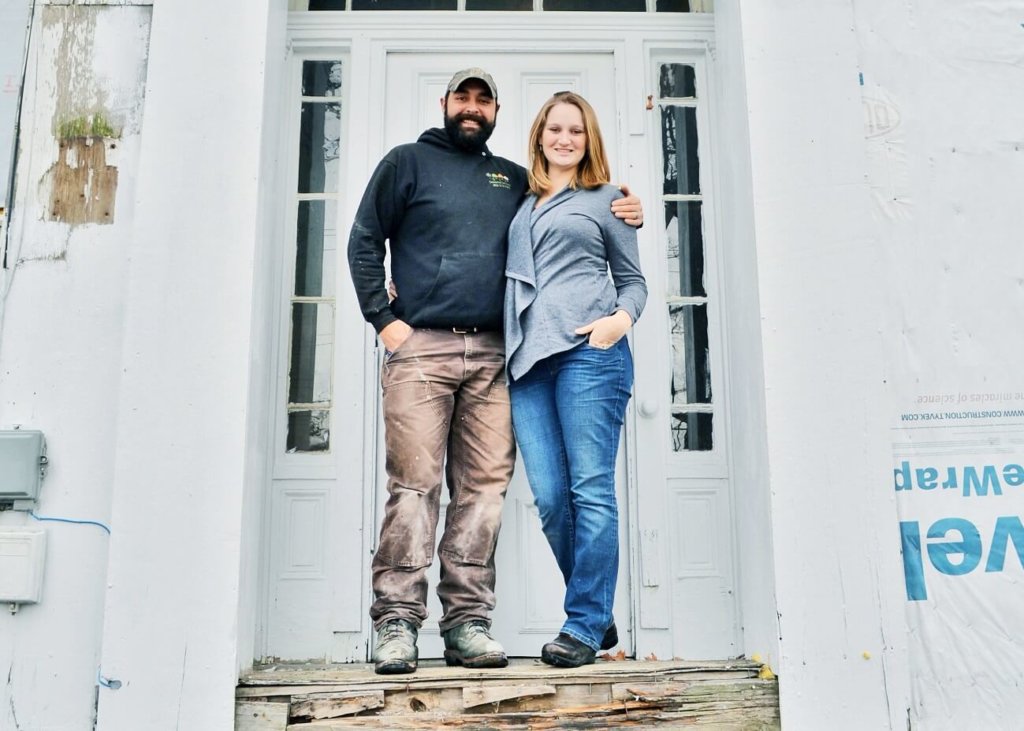 Historic Charlotte home undergoes massive restoration
While most of us view extreme home renovations only via cable television, Charlotters are experiencing first-hand the resuscitation of a dilapidated, timeworn home in their own community. It's the ultimate fixer-upper that would even give the famous Chip and Joanna Gaines a run for their money.
New homeowners Heather Morse and Greg Armell had to remove three tons of garbage from the historic Elijah Alexander House before the renovation could begin. After 170 years of occupancy on Hinesburg Road in Charlotte, to say this old house needed a bit of TLC is an understatement.
Native Charlotter Armell, 30, and Morse, 25, previously of New Haven, married in April 2014 with intentions to purchase a large plot of land for sugaring. Charlotte is where they wanted to raise a family, but Morse, whose vocation is in real estate, knew this would not be an easy task. "There are not many properties available in Charlotte with acreage," Morse said. "So when this property popped up, it seemed like it was worth it."
Only time will tell if this 34-acre purchase was a wise decision. Morse and Armell bought it for $136,000 and have budgeted about $70,000 for materials. It's a big push, but this motivated young couple has their sights set on a July completion. Armell already looks a bit fatigued. And he's not alone. Several of his closest friends and family join him after their day jobs, sometimes until 1 a.m., to work on the home. The couple closed on March 1, 2016, and the all-volunteer crew started demolition the very next day.
Morse has a bachelor's degree in architectural design and has three uncles who are contractors. "We joke that the land is Greg's and the house is mine," Morse said. "Greg has his heart set on starting a sugaring operation after the house is finished."
Armell nodded, looked up at the beautifully exposed beams above him, and said with a warm smile, "She's really running the show here."
When he's not working on his house, Armell owns and operates a successful landscaping business called GJA Seasonal Services. Morse and Armell are also preparing to be first-time parents as they are expecting a baby in April.
About 15 tons of garbage, sheetrock, plaster and outdated building materials have been removed from the home, new windows and doors have been installed, shingles have been replaced on the main roof, and the kitchen roof has been rebuilt and re-shingled. All-new interior walls, a new kitchen and two new baths have been installed. There is new foam insulation, a new water-treatment system, new plumbing, heating and electrical, and the house was jacked up to install new support beams.
But before all of that took place, there was a bit of red tape to cut through. The property was JA Salvage Yard previously. Peter Trono of Charlotte purchased part of the property for his Fat Cow Farm, Morse said. "Nobody, not even Peter, was aware that when the town split JA Salvage Yard into two parcels, they put the house and the acre around the house with the 18 acres sold to Peter," she said. "When my attorney did a title search, she discovered that the property we were trying to buy was only the garage and 33 acres, but Peter was generous enough to deed the home back to owner Ben Richmond, who we then purchased it from. We literally couldn't own this home without Peter's support and generosity."
Local historian Dan Cole said Elijah Alexander, for whom the historic site is named, purchased the land in 1809. The Greek Revival-style home was probably erected around 1845. It grew to be a 300-acre farm that has been recognized by the Vermont Division for Historical Preservation and the Chittenden County Historical Society as a well-known station on the Underground Railroad, a network of secret routes and safe houses used by slaves escaping to free states and Canada with the help of supporters sympathetic to their cause—although Cole said he has yet to find any documentation to prove that claim.
Cole said the Charlotte Historical Society strongly supports the efforts to preserve the property, which in turn supports the cultural and architectural heritage of the community. "Our older houses and other structures are being lost all too rapidly," he said. "Whether it is our cemeteries or our buildings, once these monuments to our past are gone they will not return."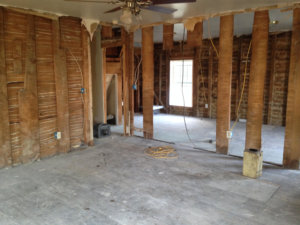 Elijah Alexander and his wife, Lydia Staples, had seven children. Lydia, their youngest daughter, married Dewitt Hicks in Charlotte in 1858. They inherited the farm, and when Lydia Hicks died in 1893, she willed it to her son in exchange for his promise to keep her charitable giving alive. "She was cool like that," Morse said. "There's a really rich history of ownership here. There are many stories to tell."
Since renovation began, many passersby have stopped to take in the sights and the stories. "People drive by and honk when we are outside working on it," Armell said. "Bikers stop to ask questions and tell us the house looks amazing."
The more unique stories about the house are of the hauntings. "We hear footsteps a lot, have heard doors open and close, and she [the ghost] said 'hello' to Greg once," Morse said. "We even saw her standing next to the bed one morning."
Similar experiences have been reported by previous owners, but Armell and Morse have fierce feline protector Grace, who also keeps rodents (and other pets) off the property. "Grace is more evil than any ghost here will ever be," Morse said while laughing and shaking her head. "She is pure evil."
Neither ghost nor Grace, however, has succeeded in scaring anyone away from helping with the restoration. Jon Lathrop is on the grounds almost every night with a hand in everything. He even fell through the rotted roof in the beginning. "We wouldn't be anywhere without him," Morse said.
Then there's neighbor John McClary who helps with plumbing, water and sheetrock. Others like Vic and Wanda Bean bring sweet treats. Neighbors Ryan and Jesse Cook sometimes bring dinner and help with sheetrock and other tasks. Grandmother Ramona Morse has funded some of the repairs. And more than 20 friends and family members pitch in on a regular basis, too many to list here. The biggest helpers of all are Dan and Melinda Morse. "They have really done too much to list," Morse said of her parents.
As for why the two have taken on such a daunting refurbishment, they said it was for Morse's father. "We really love my dad," Morse said. "He has Parkinson's disease and has always wanted to flip an old house. And my dad believes we can do it."
Save
Save
Save
Save
Save